Limited availability
Miele Washing Classic
High quality washing machine, perfect for small households
Pay per use

€14.95
per month
+ €0,40 per cycle
Miele Washing All-In
High quality washing machine including detergent supply
Pay per use

€16.95
per month
+ €1,00 per cycle
Pay per use

€22.95
per month
+ €0,60 per cycle

Free delivery
We only leave if everything works sufficient. We do take your old appliance.

Flexible and convenient
We take care of repairs. you can cancel every month.

Smart
Get insight in your usage with the Bundles WebApp

Sustainable
Together with Miele we increase the appliance life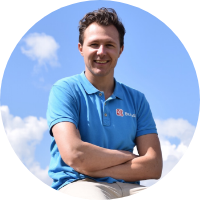 Wouter Buijze // Co-founder Bundles
These are questions people ask me often
When is my appliance going to be delivered?
You get a phone call within 3 workdays to make a delivery appointment. Your appliance is installed for free within 5 workdays.
Do you take my old device with you?
Yes, we do that for free! Our installers connect your new appliance to the water supply and the drain. We also take your old device with us.
What does the subscription include?
With our subscription, you can use a very economical and powerful Miele appliance. We are available everyday between 08:00 and 20:00 for any questions or problems. The subscription also includes free maintenance and repairs. Moreover, we provide you with insights and tips about your usage via the Bundles Webapp.
How flexible is my subscription?
We do not believe in long term contracts, we believe in satisfied customers. Therefore, you can cancel or switch your subscription monthly. Though, if you cancel within 5 years, we do charge a moving fee (€89) for picking up and refurbishing the appliance. This will be settled with the deposit (€89) which you pay when you start using our service. You can also transfer the subscription to a new subscriber.
Het Bundles concept
Het nieuwe wassen uitgelegd in 2 minuten
Kwaliteit apparaten
Beste wasresultaat met Miele Wasmachines

De beste service voor uitstraling
Kies voor gemak met Bundles
Nooit meer zorgen over onderhoud en reparaties
What our subscribers think of Bundles
9.1