Small Enjoyer
All-in-one Coffee
Subscription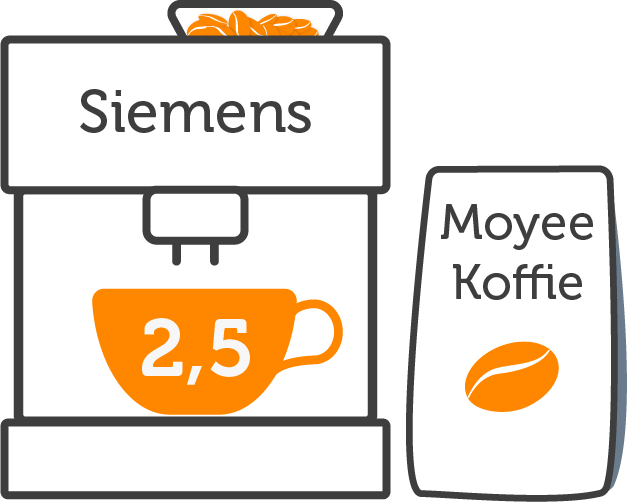 Included
✓ Fully automatic coffee machine
✓ Fresh specialty Arabica in your mailbox
✓ Maintenance products
✓ Possible repairs and replacement
✓ Handy Bundles WebApp

€0,45 per cup
Most chosen
Coffee Lover
All-in-one Coffee
Subscription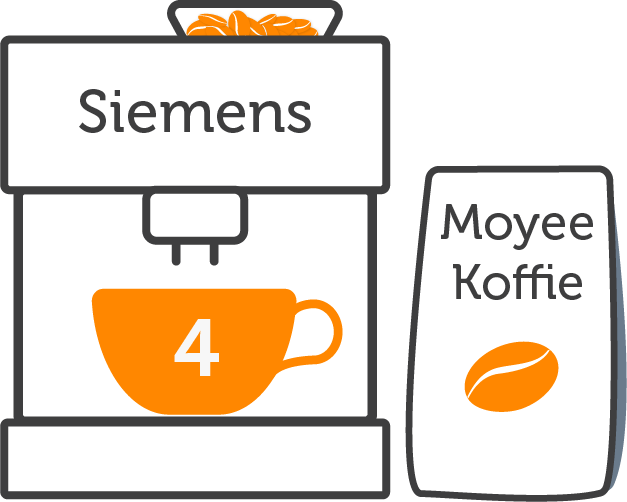 Included
✓ Fully automatic coffee machine
✓ Fresh specialty Arabica in your mailbox
✓ Maintenance products
✓ Possible repairs and replacement
✓ Handy Bundles WebApp

€0,35 per cup
Big Users
All-in-one Coffee
Subscription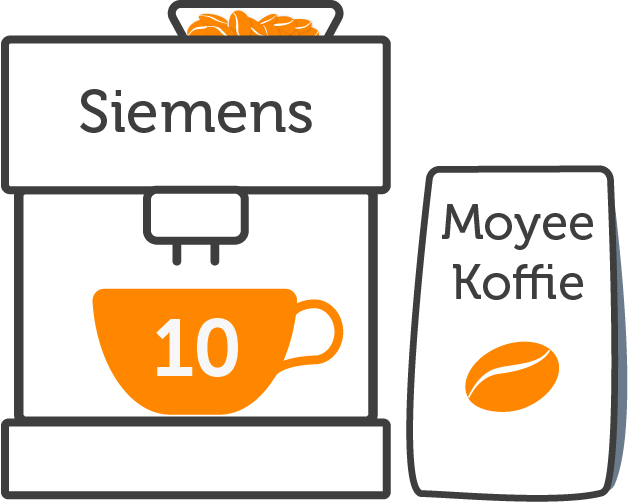 Included
✓ Fully automatic coffee machine
✓ Fresh specialty Arabica in your mailbox
✓ Maintenance products
✓ Possible repairs and replacement
✓ Handy Bundles WebApp

€0,25 per cup
What our subscribers think of Bundles
9.0

Naomi & Matthijs
"Thanks for the good care! It has happened often to me that I forgot to buy Nespresso cups. And now I have always fresh coffee beans at home. And I can always offer guests the best Arabica from Moyee, that's simply awesome!"
Topkwaliteit bonen
Do you know that Moyee coffee has a 'cupping score' of 80+? That's why we can call it '100% specialty coffee'. That does not only sound interesting, but it also tastes very good!
Sander & Medya
"Paying per cup and automatic delivery of premium coffee beans fits very well in my life style. Another thing which I don't need to think about anymore. Nice to see that you succeed to apply IoT technology in a useful way."
Hans & Reineke
"I make use of your subscription already for 5 months now and I have to say: it is very satisfactory! Every morning, I make very quickly a big capuccino with 2 espresso shots for in the car. The milk system cleans itself, very convenient. And lately i got the recipe for Espresso Martini from the Bundles app: delicious!"
Een eerlijk verhaal
Moyee's top quality beans have been roasted and packed - according to the FairChain principles - in the country of origin. Because of this, local entrepreneurship and employment is enhanced.
FairChain koffie
With every cup, contribution to the prosperity in Ethiopia and other coffee producing countries!
Het FairChain concept van Moyee
A short lesson about the coffee chain and the solution, in one minute.
De Siemens EQ6
For 35 cents or 25 cents (cheaper than a Nespresso cup), you have a freshly made cup of quality Arabica coffee from a top quality fully automatic Siemens coffee machine.
Benefits of the Bundles coffee subscription

Cappuccino or latte at the touch of a button

We understand very well that everybody has their own taste. That's why we have 4 different types of coffee.

Service and insight through smart technology

The best service at defects

Stay flexible, you are committed to nothing!

Free delivery of appliance and coffee!

Lifetime guarantee during your subscription

FairChain coffee and thus employment in coffee producing countries.
View specifications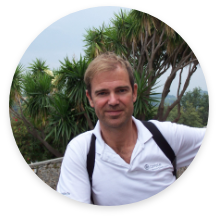 Wouter Kreuwel // Director CoffeeBundles
These are questions people often ask me
Is there a minimum monthly usage?
We have three different subscriptions. The subscription 'Small Enjoyer' is already available for a minimum usage of on average 2,5 cups per day. For the subscription 'Coffee Lover' this is 4 cups per day and for 'Big User' 10 cups per day. When you drink less coffee during one month, it will automatically be taken as reserve to the next month.
How do you know how much coffee we drink? How does it work?
We connect the device with a smart plug to the internet. This allows us to see how many cups you drink. As such, we can prepare the correct invoice at the end of the month and we know when we have to ship the next load of coffee so that you always have fresh Arabica beans at home.
What is the difference between the three subscriptions?
The three subscriptions are tailored to the profiles of our users. The differences are the price per cup you pay and the minimum usage taken into account in each pricing model. If, after some time, it appears that another pricing models better fits your usage, you can switch anytime (if we have not already done that for you).
Which beans do I get? Can I change tastes and can I occasionally use my own beans?
When you receive your appliance, you get all 4 of the Moyee coffee blends (tastes). So you can try them all. Then we ask you for your favourite taste(s) which we will send from that moment on. Do you want to try something different again, receive or change a mix of tastes? No problem! You can also use your own beans occasionally - although it's a bit a shame since the Moyee beans are part of the service!
All specifications

Afmetingen Siemens EQ6
385 x 301 x 458 mm (h x b x d)

Inhoud waterreservoir
1,7 liter

Koffiebonen reservoir
300 gram

Aantal kopjes per keer
2

Typenummer
TE653311RW

Consumentenadviesprijs Siemens EQ6
€ 899,-

Maalgraad
Instelbaar

Koffiespecialiteiten
Espresso | Café lungo | Latte macchiato | Cappuccino | Flat White

Niet-koffiezettingen
Heet water | Warme melk

Melkopschuimer
Automatisch met slangetje